Innovation & Technologies
Innovation & Technologies
Ingénia's innovation initiatives are driven by a passion to provide the highest standard of product quality and the most reliable service. Over the years, the company has pioneered the most advanced cabinet construction in the industry and we have never stopped pushing the limits of innovation to perfect it further. That quality of design is reflected throughout our product lines, from fast delivery modular units to fully custom projects. Through our unique systems approach, we manufacture equipment that :
Provides exceptional I.A.Q. features
Offers the highest energy efficiency
Delivers quality acoustical performance
Manufacturing Technologies
With its unique and visionary approach, Ingénia offers the most complete line of premium AHU. From fast delivery modular units to fully custom projects, from factory assembly to jobsite assembly, we have developed a unique approach to cater to all customer needs.
Ingénia's exclusive software offers a quick and easy way to design the unit, select components, price and fabricate the simplest to the most sophisticated AHUs. By including an extensive list of suppliers, our software allows the designer to compare various configurations, monitor all cost variables and ultimately design the optimal configuration.
Ingénia's team has streamlined the production cycle into a structured process where sales, engineering and manufacturing are totally integrated and fully automated.
With the integration of manufacturing 4.0 digital technologies, Ingénia's production lines are now fully automated to ensure repetitive and predictable accuracy. State-of-the-art sheet metal machine tools and robots are used to handle, shear, bend and powder coat all parts to perfection.
Energy Efficiency

Typical analysis of a traditional air handling system show how the initial cost of the equipment accounts for less than 20% of the total cost of the whole life of the system. The remaining 80% is due mainly to energy costs and, marginally, to maintenance costs.
Energy Savings from Superior Cabinet Design


Ingénia's air handling units' superior cabinet design ensures energy savings. Traditional HVAC systems can waste vast amounts of energy due to poor thermal performances and leakage of their cabinets. We manufacture the highest energy efficient air handlers in the industry with complete no-through metal construction on all base frames, floors, walls, doors and roof panels.
Tailored Energy Recovery Options

All of Ingénia's air handling units can be fully integrated with the following energy recovery devices:
Fixed plate heat exchangers
Heat pipe and wrap around U-pipe
Direct/Indirect evaporte cooling
Double passive and active heat recovery systems
Run around glycol or refrigerant loops
All of Ingenia's air cooled or water-cooled DX air conditioning systems feature fixed speed Scroll or variable speed Scroll compressors, known for their superior efficiency, proven reliability and ease of installation. All Ingenia's direct expansion (DX) systems use environmentally friendly R-410A refrigerant.
Energy Savings from Fan Power


Ingénia's unique EC fan array systems use high efficiency, electronically commutated (EC) motors that offer power savings ranging from 10% for full airflow to as much as 50% savings when operating at 25% partial duty airflow. In most HVAC applications, average fan energy saving of 30% are easily obtainable in conjunction with superior acoustical performance and redundancy.
Extreamly quite operation
The Ingénia EC fan array system's high flexibility does not require costly VFDs
Speed range of 10% - 100% vs. min 30% for VFDs
The intelligent design allows multiple EC fans to be controlled and monitored remotely using a 0-10 V signal
In the event of a malfunctioning fan, the speed of the remaining fans increases to compensate for the loss of airflow
EC fans operate in both 50 Hz and 60 Hz
Vast operating range of 0°F up to 140°F
Can operate with up to +/- 10% voltage power spikes
Easy replacement of the non-operating fan
Energy Savings from High Efficiency Variable Speed Compressors

One-circuit systems, up to 15 tons of cooling, come with a single variable speed Scroll compressor that provides continuous modulation between 25% and 100% capacity. Units above 15 tons of cooling come equipped with multi-circuit systems and a combination of fixed speed Scroll and variable speed Scroll compressors. This results in a hybrid configuration of on/off steps plus full-modulation capability up to 120 tons of capacity. Scroll compressors achieve infinite capacity modulation between 25% to 100% without the need to start stop as often as a traditional compressor. This results in enhanced reliability and less maintenance because of the reduced wear and tear on the compressor. Some of the advantages of Ingénia's modulating compressor technologies are:
High system efficiency over the entire operating range by matching capacity with demand
Precise capacity matching providing continuous modulation between 10% and 100% capacity
Precise and smooth temperature and humidity control without any fluctuation in set point
No complex internal suction and discharge valves for quieter operation and higher reliability
Easy to service and maintain due to their compact size and lightweight simple design
Energy Savings from High Efficiency Low Sound EC Condenser Fans


Maximum efficiency and minimum energy consumption. Compact, cutting-edge technology, user-friendly and simple operation are the foundation of the EC condenser fans and all of Ingenia's air cooled DX air conditioning systems feature these fans. Unmatched low power consumption of the EC condenser fans' technology reduces o perating costs.
Energy Savings from High Performance Microchannel Condensers


Ingénia's built-in or remote air cooled condensers can be equipped with high heat transfer all aluminum low refrigerant charge microchannel. Microchannel condenser coils are made of three components: a flat microchannel tube, fins located between the microchannel tubes and two refrigerant manifolds. Product quality and integrity are maximized since only one braze is required compared to hundreds manually brazed connections with traditional copper/aluminum coils. Some of the advantages of Ingénia's microchannel condensers are:
Up to 30% smaller cabinet
Up to 60% reduced transport cost and easy handling
Up to 25% smaller or fewer fans, reduced fan speed (less noise) and reduced energy consumption
Up to 50% improved efficiency
Up to 80% reduced refrigerant charge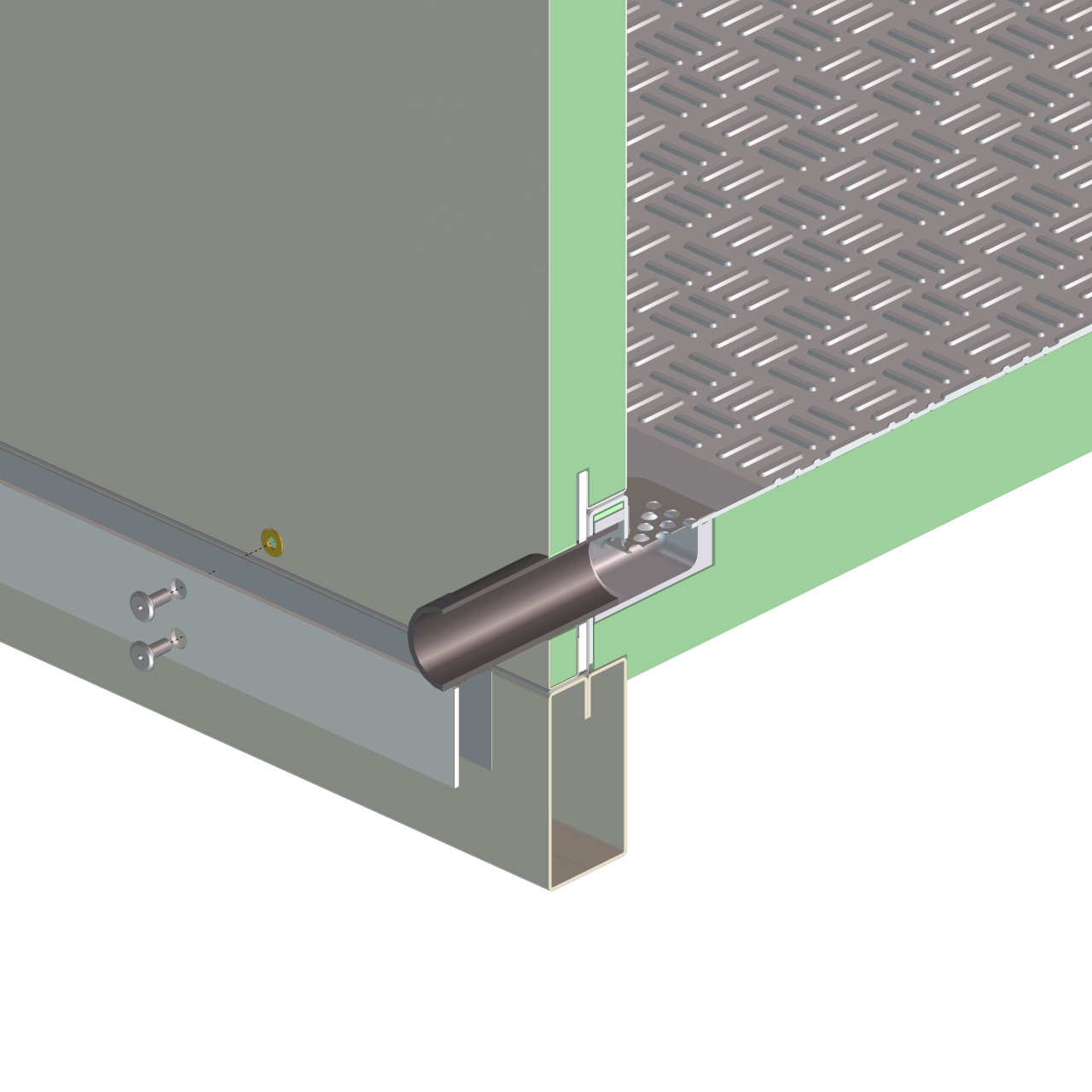 Thermal and Air Leak Tight Cabinet Technologies
Hygienic wash-down floors
Ingénia's intensive research and development efforts have resulted in the creation of a floor surface specifically designed for health sciences applications. This innovative floor design offers the fundamental strength for large air handling cabinets. In addition, the floor is recessed to create a completely welded water management floor surface. Stainless steel drain outlets can be provided at every accessible section. To ensure positive flow drainage, the floor surfaces can be sloped towards the drain connections. The floor is heavy gauge aluminum diamond plate. Checkered plate stainless steel floor surface is available as an option. All floor sectional joints and corners are welded to ensure complete water tightness.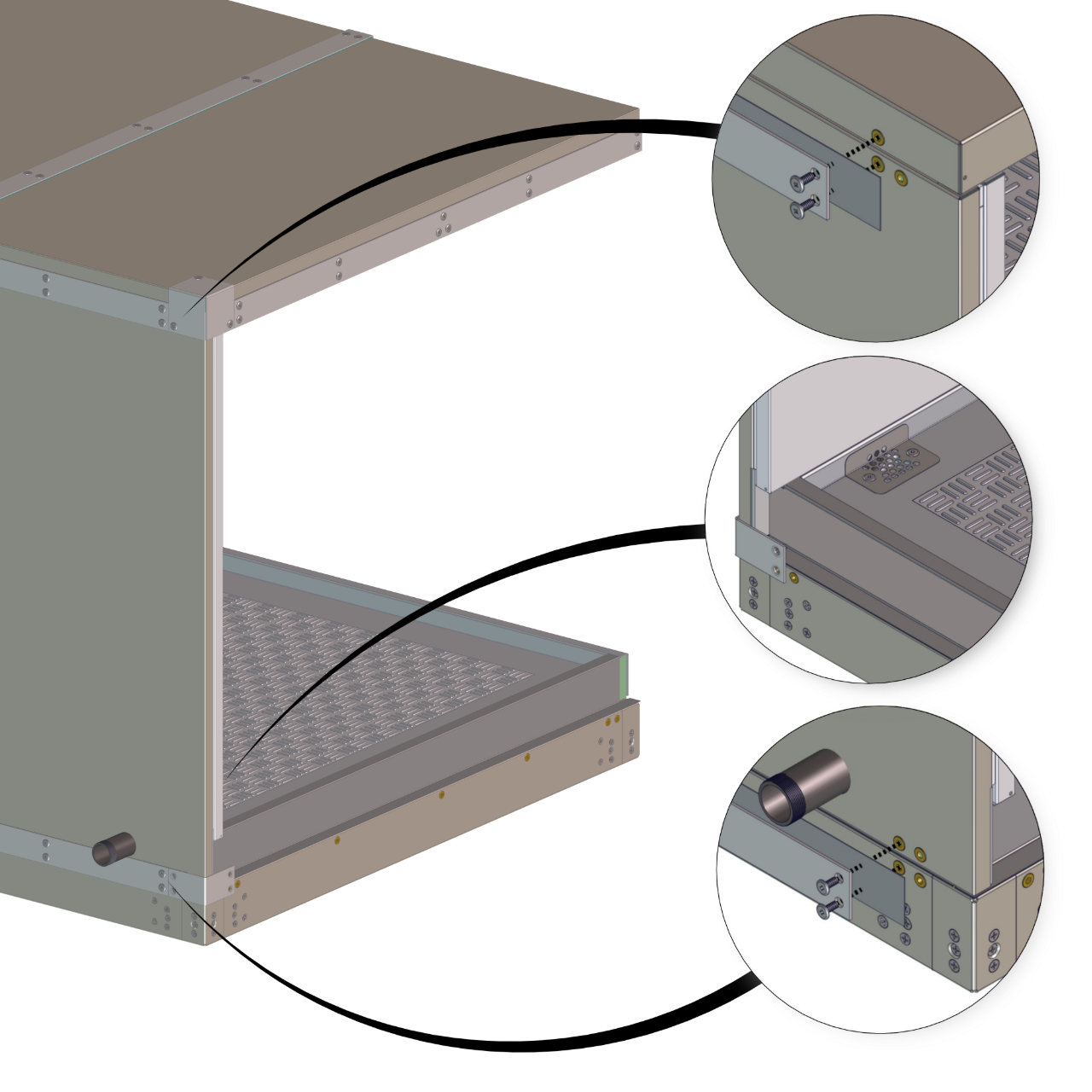 Cabinet Technologies
Unique in North America for the highest and most uniform thermal resistance cabinets, Ingénia's air handler cabinets are insulated with injected polyurethane having an R-value equal to 6.5/inch. Besides the higher thermal performance, injected polyurethane foam insulation has many advantages over fiberglass: most notably, it is a closed-cell matrix with a water permeance factor of practically zero. Other outstanding performance characteristics are: superior structural strength and absolute air pressure seal. The cabinets are built to withstand up to 78.0 lbs/sq.ft. or 15" w.g. air pressure and the air leakage rate is guaranteed to meet the requirements of Class l casing air leakage rating.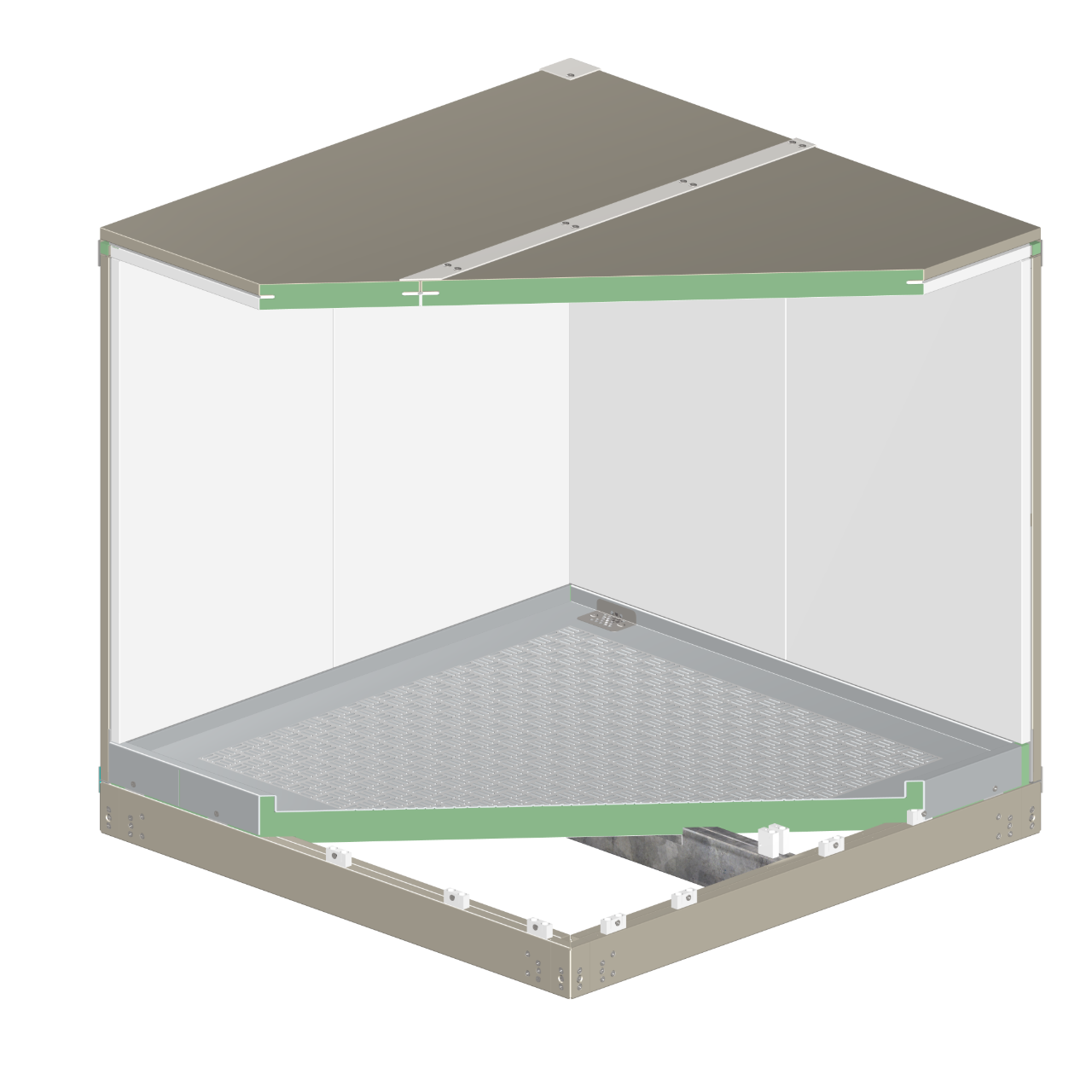 No-Through Metal Floor Structure
The highest energy efficient air handler in the industry with complete no-through metal construction on all base frames, floors, walls, door and roof panels.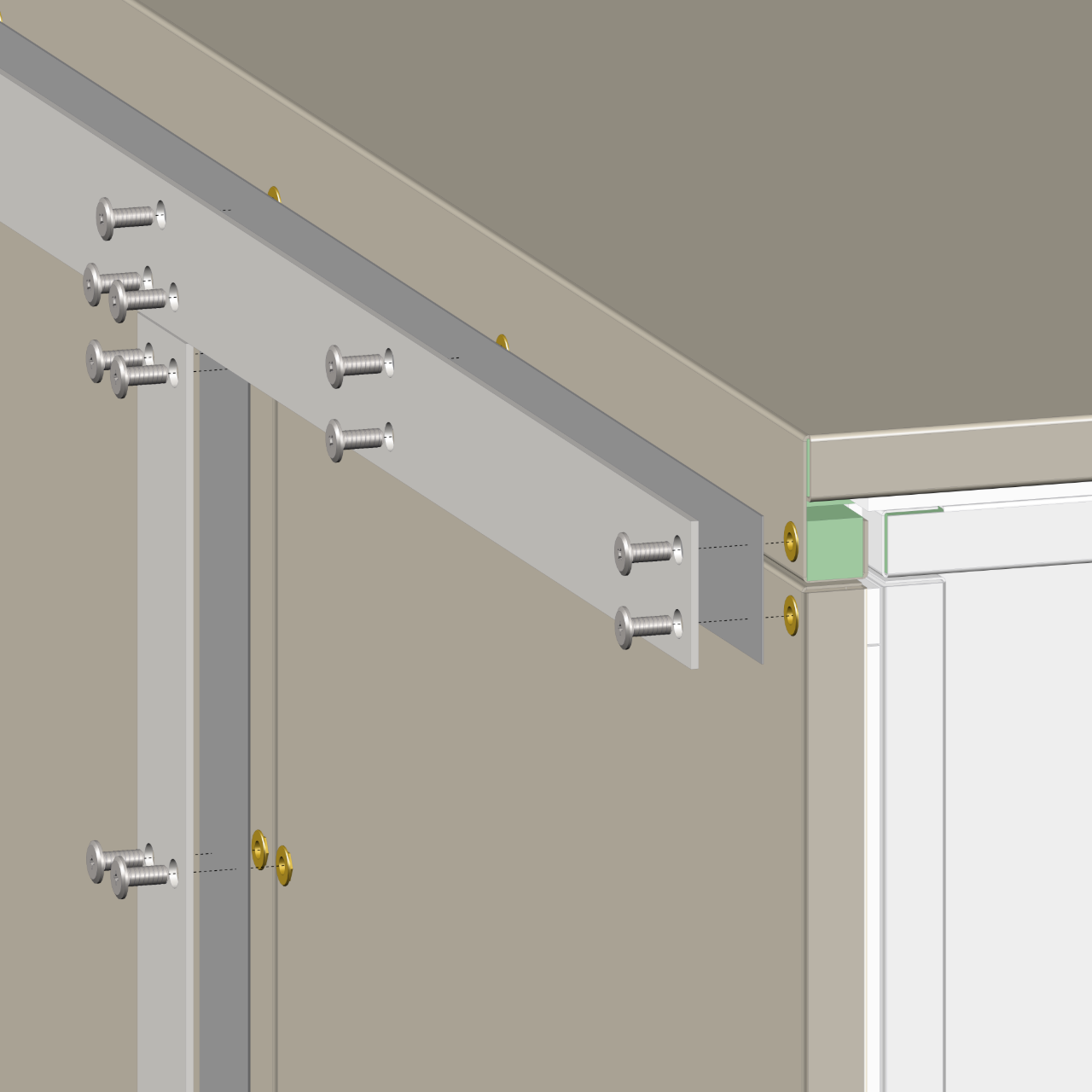 Assembly
Cabinet Design and Assembly
Ingénia offers the most advanced cabinet assembly in the industry. Panel-to-panel joining is accomplished with 1/4" bolts securely fastened to industrial quality hexagonal-base Nutsert™ which are then sealed with butyl polymer adhesive gaskets. The gaskets are compressed between the external panel joints and heavy gauge moldings. The exterior moldings are bolted to high strength industrial Nutsert® fasteners.
Acoustical Technologies
Ingénia has been a pioneer in the development of unique acoustical solutions for sensitive applications such as performing arts centers, museums, high-rise buildings with mechanical rooms adjacent to occupied spaces and healthcare projects.
Ingénia's available solutions range from basic fan source sound to positioning of acoustical baffles within the airstream to sound attenuators. The acoustical performance is designed using state-of-the-art sound modeling software which accurately predicts inlet, discharge and radiated sound power levels.
Ingénia offers a complete line of fan options to tailor the solutions to the application. It is possible to use single or multiple fans in a parallel configuration. Keeping in line with the latest technological advancements, Ingénia also offers fan packages with integrated electrically commutated motors. These fan types outperform the conventional industry fans in terms of acoustics and efficiency.
SystM1 Software
This powerful software brings flexibility and computing power to individual designers and customers and allows them to make product decisions and view the resulting performance impact in a user-friendly environment.
Ingénia's selection program uses the most advanced software technology to easily configure the most complex air handling systems. The selection options include the performance of internal components. In addition to generating scaled and 3D drawings, Autodesk® Revit® files are also available. The program is online and continuously updated.
As the AHU is configured on the screen, the background programs generate manufacturing, costing and order management data, all in one complete package.
The factory is equipped with the latest technological equipment to test for cabinet leakage, airflow capacity, fan vibration and free field acoustical performances.
With a commitment to quality and customer satisfaction, Ingénia continually strives to not only meet, but to exceed our customer's expectations with every unit we manufacture.
All equipment and components are in compliance with applicable codes and standards.
All products can be ETL certified.
Ingénia's quality assurance program endorses a strong methodology of continuous improvement. Quality is ensured at each step of the business and manufacturing processes.
Cabinet panels' thermal and acoustical absorption and transmission performances have been tested by independent laboratories.
All products, including controls are rigorously tested.